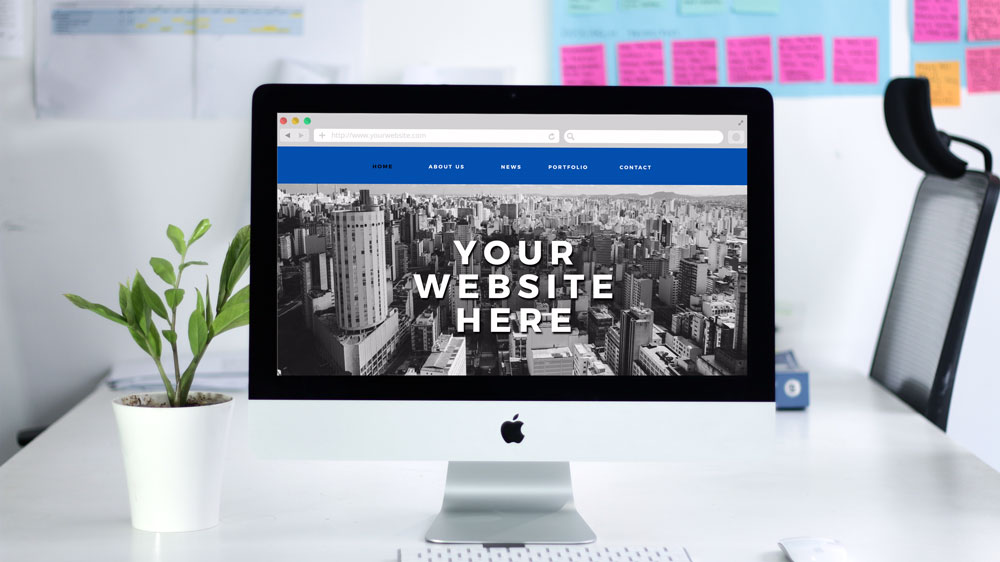 Whether you own a Macbook Pro, iPad air, Macbook Air, PC, Android smartphone, or any other modern device the advertising branding, and mobile app of your business are key to thrive in today's competitive markets. But why are PSD monitor mockup designs through Photoshop PSD so important? Well, there a number of reasons why you shouldn't leave monitors out of your branding campaign.
Ask yourself: What are the most important devices used in an office? You'll come up with cell phones or maybe a widescreen TV in the lobby. But a device needed for almost anything you do on a daily basis is a desktop PC. Whenever you visit an office or a bureau, you will find not only one but many of these devices. Nowadays, monitors are in every workplace.
Knowing how your website design mockup, product, logo mockup, or business card will look on a monitor will help you improve aspects that you may not have seen in cell phone screen mockups.
Monitor Mockup Designs have taken the best out of technological screen resolution advancements. There are few things that will give your product or website a fancier visibility than an HD monitor mockup.
For a logo mockup, product presentation, or meeting, you may want to create a couple of monitor PSD mockups that show how the product will look from different perspectives. Another great idea is to put them in different colors, implying you're offering options to personalize the interface.
Try to make your logo look like a small and static sample of your product. You can try this by giving the user an overview of the menu and the options they'll be able to use once they get it.
Tips for PSD Monitor Mockup Designs
You can get as creative and imaginative as you want when you are making screen mockup designs of your products. Actually, it's your personal touch what will give some singularity to your product. That's exactly what the client likes.
Nevertheless, here are a few general tips you could follow in order to make the most out of your creative decisions:
Choose a template where your design is the center of attention. Avoid any template that doesn't give enough exposure to your design.
Play with the colors. If your app, website, or design has an orange interface with blue letters you can try different combinations. For example, looking for a template with a vivid brown and some white on it will look great when put all together.
Widescreens all the way. It doesn't matter how simple your product's interface is when you are creating a monitor mockup design go for wide screens. It'll give the high quality and updated touch your product needs.
Keep these tips in mind when you decide to create your PSD mockups. Remember that when you present your product to anyone you want to create an impact in your audience so they won't be able to forget about your product.
A proper monitor mockup showing your app/interface accompanied by a great logo can make an unforgettable image for the user.
Mockup Use for Marketing Purposes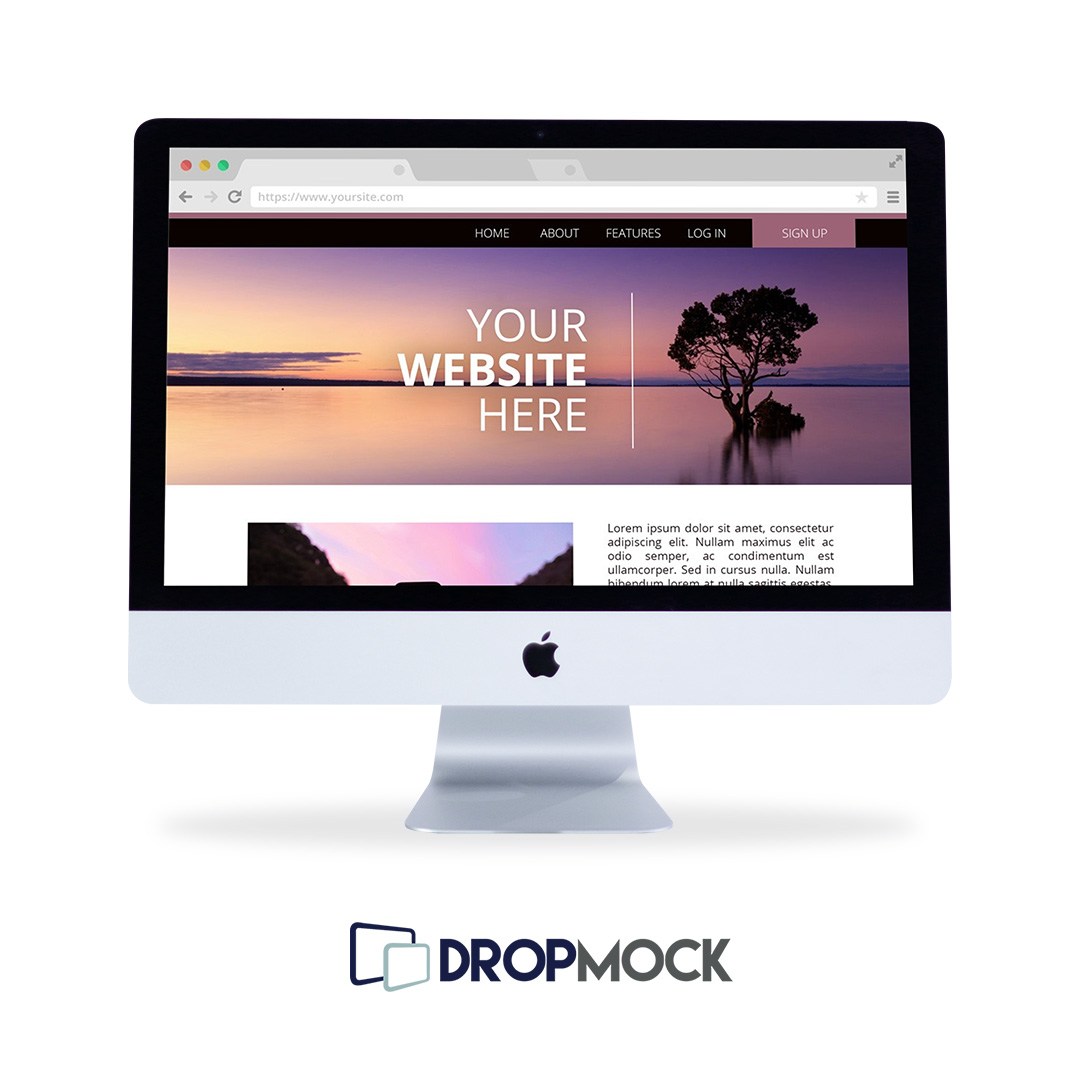 There are many ways you can use your mockup designs for marketing purposes. An excellent way to advertise your app or website is by using your mockup so you'll give people a preview of how the product you're offering would look on their platform.
You don't have to hold yourself to one mockup design; it's way better if you show your product's user interface in as many platforms as it'll be available on. When people see an ad for your product displayed on a tablet, desktop PC, or cell phone's screens together at the same time they feel the creators believe in their product and have invested in making it possible to reach as many people as they can.
Never underestimate the potential of your product and try to show your potential customers the best features it offers. If you have broadcasting software then take the screen of a broadcast. If it's a video media player then show it playing a full HD video.
How can I Make a Great Monitor Mockup Design for my Product?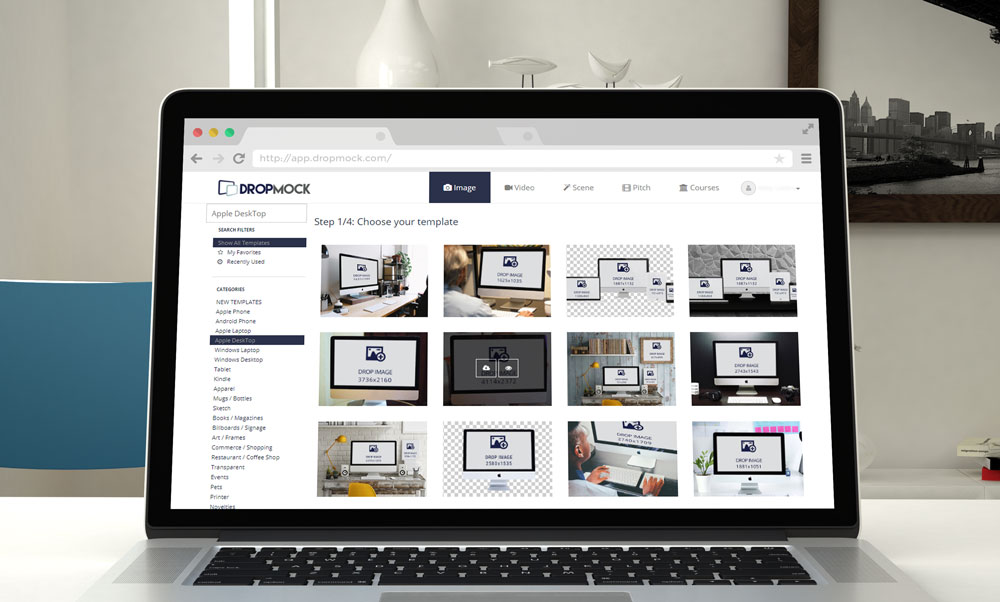 Before you look at some great options for you to design a monitor mockup for your product, you must keep in mind that designing for a mobile phone or tablet is very different from the web, or even a standard desktop app because every element has a fixed position on the screen, and this must be considered carefully.
Therefore, remember you have some proper screenshots and designs of the desktop version of your app/website. Taking a cell phone design and changing its dimensions will end up looking terrible.
There are many websites where you can find mockup templates—you simply need to download them and start working on them to make your product screenshot or image fit in the template. One good example is dropmock.com.
With Dropmock, it is easy to add your own content, and the Dropmock Scene Creator can help you showcase your designs and includes hundreds of different elements to help you create your own clean mockup scenes.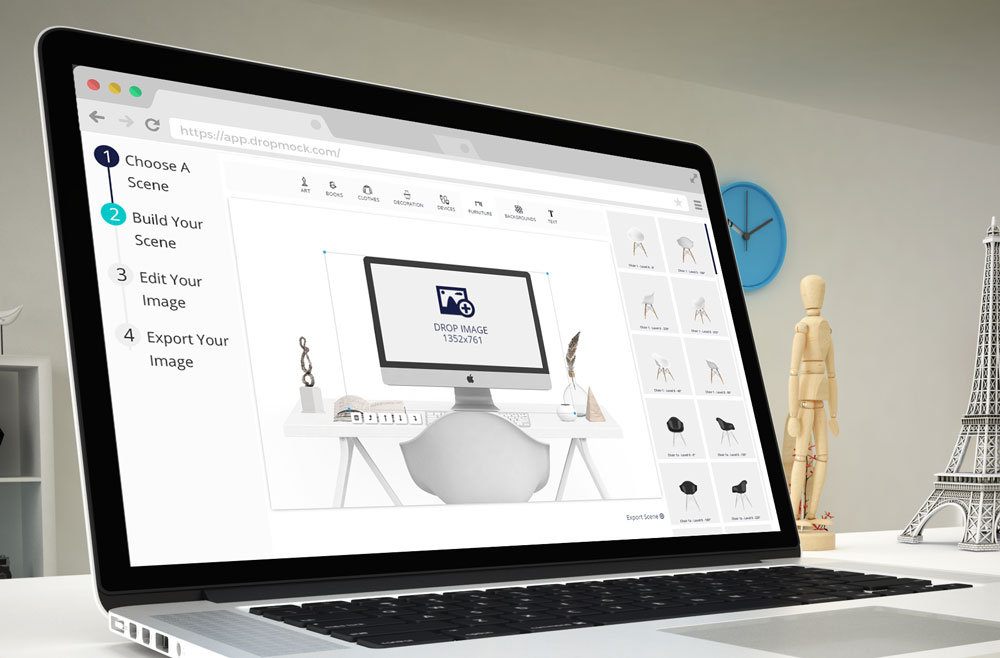 The main problem with using a downloaded template is that you will struggle in order to make your image fit and look natural on the template. It can be a very hard work no matter how skilled you are in software such as Photoshop or Adobe Illustrator.
Even the most skilled designer sometimes has to deal with the loss of image quality when trying to fit an image inside a template's blank space. What's the solution then? Well, you can use a practical and simple mockup software such as DropMock which will provide you with all the templates and tools needed to create your own monitor mockup designs, even if you lack Photoshop, photography, or any graphical level of skill.
DropMock will make the tedious part of Mockup creation as easy as a drag-and-drop process, only pick the image you want to the blank space where it's supposed to be located. The use of vectors in the templates won't only keep your user interface's screen resolution at its best, but it'll also help give new dimensions to the image making it fit perfectly in the blank space.
Another relevant feature of DropMock software is that it enables you to edit your images through the image editor. It's not limited to only Monitor Mockup designs; you can also create mockups for laptops, PCs, iOS, Android, T-shirts, coffee mugs, and more. It has an excellent library including professionally shot scenarios in high quality. You can try the online mockup scene creator software today.