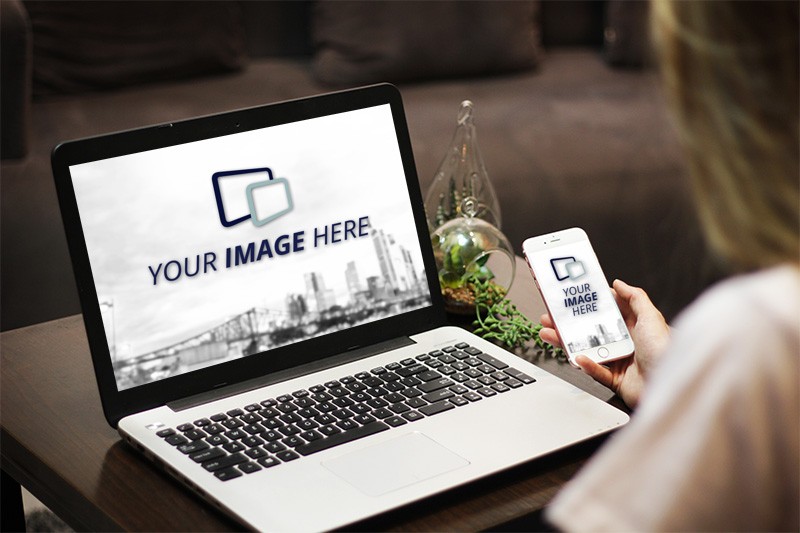 The best method for creating a MacBook Pro mockup is to choose the best mockup template designs based on your intended usage. Like with iPhone mockups and iPad mockups the MacBook in your mockup may only need to be sized for a computer screen or perhaps the ad will also go to print. Other than the graphic quality of the image content which will be displayed on the MacBook Pro mockup, the biggest task is to find mockups that suit your business goals and brand image.
How to Make a MacBook Mockup
Mockups, and even free PSD mockup designs, are high resolution and relatively easy to produce; however, they are not as simple as one would think. Such is the ignorance of the uneducated viewing a work of art. If it is a good piece, done with skill, you shouldn't see the brush strokes. In fact, it might almost look easy. Don't be fooled—the better a mockup looks, the more skill that went into creating it in its current form. If you are looking for a MacBook Pro mockup, there are two key ways of getting one.
From Scratch
Creating a mockup PSD in high resolution from scratch is an in-depth process that requires photography and digital photo editing expertise in order to create a mockup PSD of superior quality to what you can find online. That being said, the ability to create your own mockup from scratch inherently gets rid of any limitations that one might experience in searching the web. Instead of hoping to find the perfect free mockup for MacBook Pro Retina or other variation, one could just create it themselves.
There are several hurdles to mount before one could conceivably create their own mockups. First, a camera is important to capture the images that will be placed together as part of your mockup. It is also necessary for the camera to be digital in order to convert the photos into Adobe Photoshop. It will not be sufficient for professional uses to capture your images with a smartphone. Once the images are on the computer, they can be edited in Photoshop to construct the mockup for your MacBook Pro. Honestly, there are professionals who make these images for a living, which is why it is much more convenient and time efficient to get your MacBook Pro mockup online.
However, if you have no Photoshop or other video editing software experience, then DropMock offers a simple to use and easy three step process to create or upload images you would like to use. There are also thousands of different templates you can choose from in order to find the best fit for your individual needs. It is quick, easy, effective, and you will yield high-quality results that look as if they took more time to accomplish than they actually did.
From a Template
There exist hundreds, if not thousands, of MacBook Pro mockups that are available online. With these, all of the heavy lifting is done for you, with no need to open up Photoshop. Simply drag-and-drop or upload your image into the mockup template and instantly create a MacBook Pro mockup for your business. These mockups are available through many different online retailers and vendors, ranging from around $30 for a large bundle with a number of mockups being available for free. DropMock offers competitive pricing and offers more perks and advantages over other mockup retailers.
MacBook Pro Mockups
Dropmock.com is one of the best resources found on the Internet for providing high quality, industry standard mockup templates to purchase with a few free mockups. Often, these come with multiple graphic templates, displaying the MacBook Pro Retina in differing positions and environments. Purchasable mockups are often of a higher resolution than that of their free counterparts, which increases the sizing and printing options available for your mockup.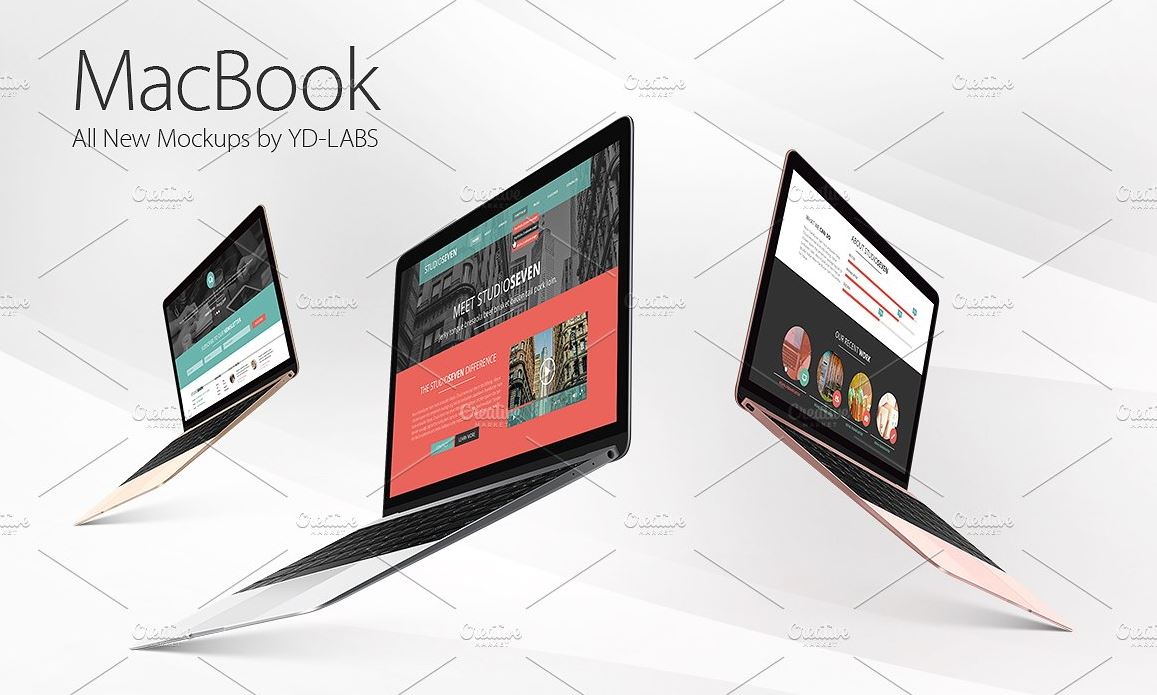 Featuring a sleek, clear view of the laptop screen, MacBook mockups display a beautiful brand logo or image. The pack comes with 20 high-resolution mockup templates, all shot in 3000×2000 pixels and 300 dpi .PSD files, also with a smart object feature. They are high-quality and good value, coming in at around $14. Simply download and place your image into the MacBook mockups.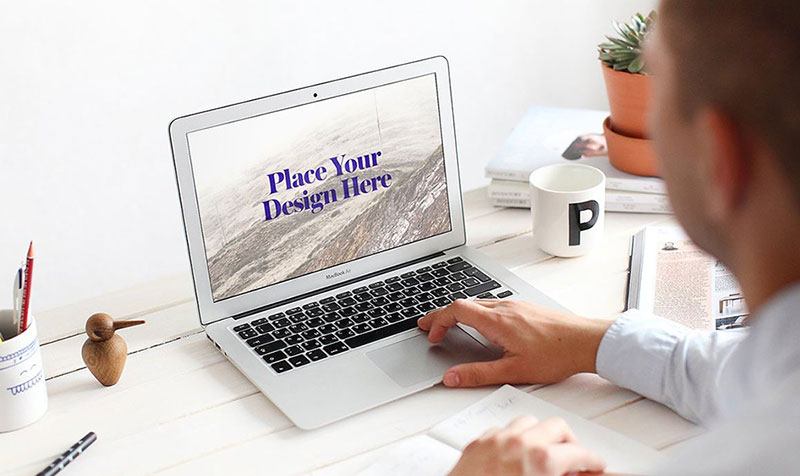 Offered through CreativeMarket.com for under $20, Clean&Neat provides just what it claims to for MacBook mockups. The bundle includes 15 iMac 21-inch computer and MacBook Air 13-inch mockups, which are formatted for Photoshop. Clean&Neat features a modern, sharp aesthetic appearance with professional backlighting and focus themed templates. For users, just paste the image of your choice in the designated spot, via Photoshop, and the formatting automatically converts it to the proper angle ratio.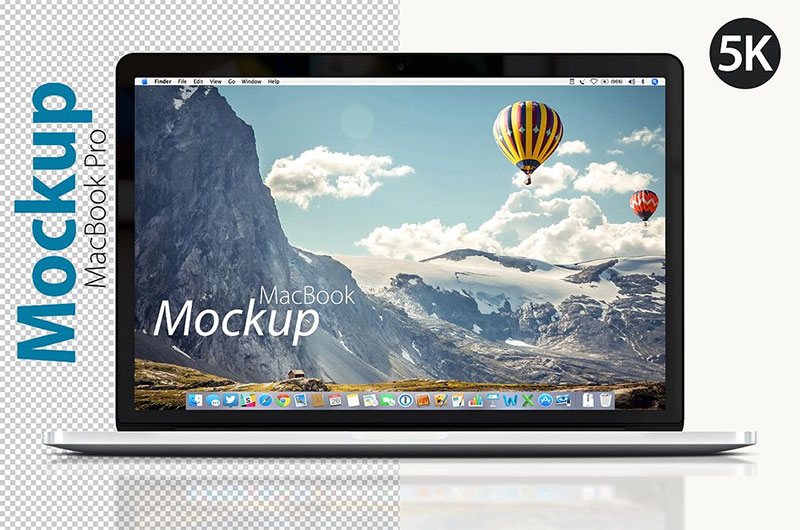 Straightforward, beautiful, simple, high-quality and cost-effective—the MacBook Pro Front Mockup is a great option for those who require only a front facing perspective. This mockup design for MacBook is offered for about $4, which may seem like a hefty tag for one mockup. However, the MacBook Pro Front Mockup is designed for users with minimal Photoshop skills. The user interface is intuitive and fast and automatically customizes the shadow properties to match both the MacBook Pro mockup, as well as the image in the background. The mockup package features a transparent background and a white background on which layers can be built or into which images can be pasted. It is built with the option to edit reflections, which the user can either turn on or off. MacBook Pro Front mockup is the best single-use MacBook Pro mockup on our list because it features 5k high-quality photorealism and it is designed for Photoshop laymen.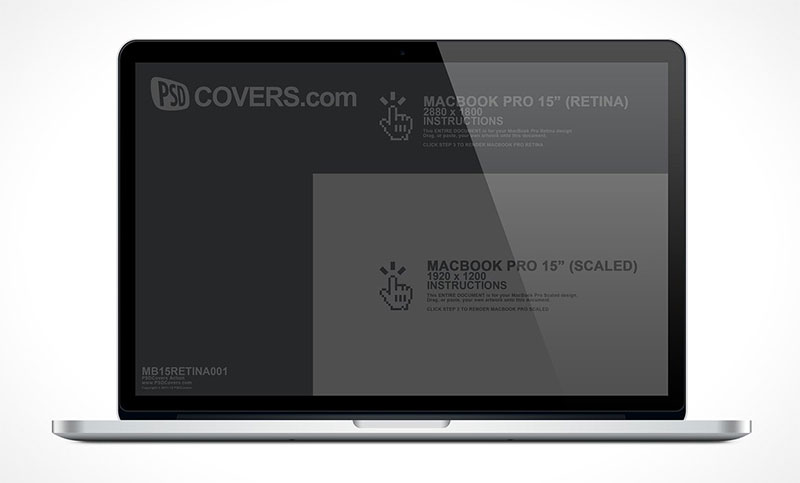 For those who only require 2D support, the Retina Macbook Front View is a great option for the value. Offered for about $2, this mockup is great for those who looking for something inexpensive, but still need a MacBook Pro mockup template of good quality. The mockup features one front-facing template of a MacBook pro, on which, you can create layered PSD templates to put in 2D graphics. It features retina display resolution of 2880×1800 and 300 dpi, for a crystal clear image. Although, it does not carry as much functionality as the Macbook Pro Front Mockup, for half the price you get a MacBook mockup that is appropriately designed for professional use and presentations.
DropMock for MacBook Pro Mockups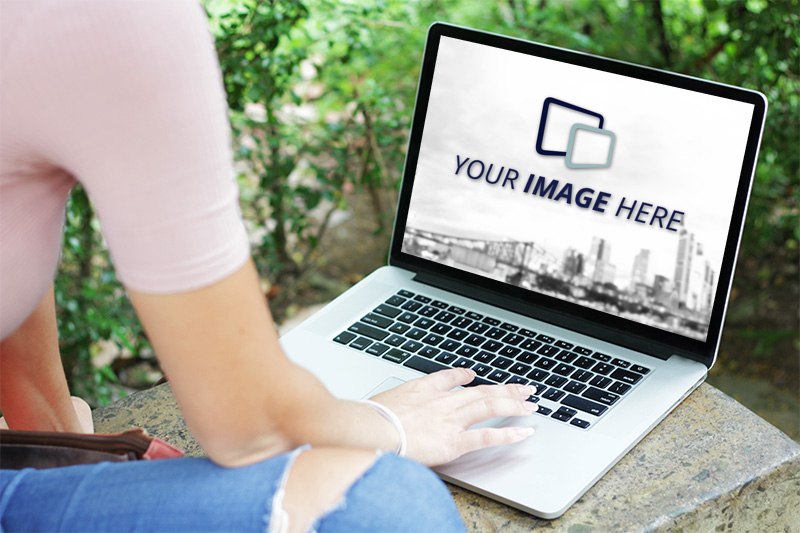 If you do not want to mess around with the confusing and complex world of mockups with editing software and Photoshop, then dropmock.com is the best solution for you. DropMock has a high end and cloud-based mockup design suite that includes already made image designs for the iPhone, iPad, and mobile and they can be downloaded in standard or high definition. DropMock also features iPhone, iPad, iMac, and MacBook designs for software, social, and even online niches.
Difference between DropMock and the other Companies
There are several reasons that DropMock differs from their competitors. Not only do they have competitive pricing and offer a thirty-day money back guarantee, but they also offer designs that will stand apart from the competition. They also create a more enjoyable customer experience and make your brand stand out and become more recognizable without all the fuss of other software programs and complicated and drawn out processes.