A mockup can simply be defined as an original object or form of an object which serves as a basis for other objects, other forms, or for its models and generalizations. It is a sample which is built to test an existing process or a concept.
A mockup is very useful and important for teaching, evaluation of existing and intended designs, demonstration, and promotion. If it is it able to deliver a reasonable part or amount of the main functions of a system, a mockup can be termed as a prototype.
Mockups serve as an avenue for product manufacturers, designers, and engineers to get feedback from customers and users of a particular brand of product. This helps them to know what aspect of the product design style guide, retail packaging design branding or manufacture to improve on or change entirely.
PSD Mockups are also helpful as they also help to save money and cut costs. It is better to make a mistake in the replica (which can ultimately be corrected) than to move into the full production stage with a design that will still require adjustments and amendments. A mockup is a resemblance of the final product.
WHY SHOULD I CREATE A MOCKUP FOR MY PRODUCT?
The sole aim of every business owner or manufacturer is to make a profit and make it massively. However, there is no other way to convince your clients and potential users of your product without a decent presentation of the design of such products. There are diverse ways to make your product design stand out of the crowd and using mockups is a real weapon that a manufacturer can use to impress his clients. It should be noted that mockups are only a visual tool and are not the ultimate product that you are offering to a customer.
HOW TO CREATE YOUR OWN PRODUCT MOCKUP
Four primary ways can be adopted in creating a mockup for a product or an item. Each of these four methods is discussed in detail.
1. CREATING AN ORIGINAL MOCKUP FROM THE BEGINNING
This can be done by combining your preferred images and photos and adjusting them after that using a photo editing application such as Photoshop. This method is advantageous because you have the privilege of altering and changing until you get what you desire or that design that suits your taste and meets all your requirements. In this method, you call the shots from scratch and make all the decisions that pertain to the design process. In order words, you have your destiny in your hands as far as the course of creating the mock-up is concerned.
2. EMPLOYING THE USE OF SMART OBJECTS TO PUT YOUR DESIGN TO AN ALREADY EXISTING TEMPLATE
There are some templates of mockups that make use of smart objects. This makes the process of adjusting them to your design pattern quite easy and plain sailing. What a smart object does is to preserve the source content of an image, keeping all its original traits and characteristics, at this moment allowing you to be able to perform editing to the layer which will not destroy its originality. These layers (smart objects) consist of image data from vector images or rasters such as Illustrator files and Photoshop.
3. MAKING A 3D MOCKUP FROM A PHOTOSHOP ACTION
This is also an excellent way of creating a mockup for your product. The Photoshop action enables you to be able to record tasks as actions and replay the steps which will automatically help you to complete the task. The Photoshop action also allows for you to be able to import actions and open up a wide range of effects and options that save time. This tool is also very capable of turning a flat design into a 3D mockup within a short period. These steps are already recorded, and the mockup designer does not necessarily have to apply each step manually before achieving what he intends with the design. Some websites have free downloadable Photoshop actions whether it is for a commercial purpose or a personal project.
4. EMPLOYING THE SERVICES OF A MOCKUP GENERATOR WEBSITE
This process is easy. In fact, it is the easiest method. It is automated too. Various websites help you to generate and develop mockups quite easily without breaking a sweat. The only stress you have to pass through is to drag and drop your designs into any of these websites. The site will generate a mockup which you can download easily in a twinkle of an eye. Dropmock is a typical (and highly recommended site for creating mockups for your product or service). Dropmock offers several high-quality mockup templates that you can drag and drop your designs into.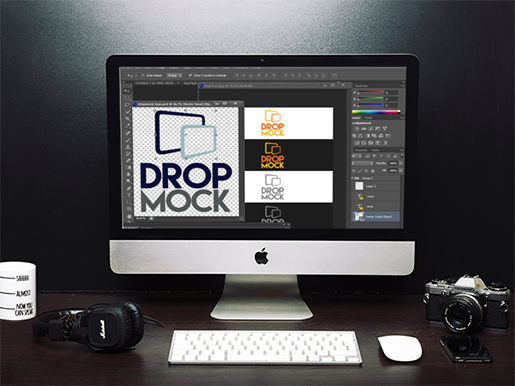 Of the four methods discussed, the first (i.e. creating an original mockup from the beginning) is practically the best as it gives you complete and total authority over the entire design process and you are assured of 100% originality. This also gives you a cutting-edge over other producers of the same product. Every designer wants to have a distinct product mockup. No one would like to use the same mockup as every other person. You would always want to stay ahead of the crowd and you can only enjoy these benefits when you create your mockup.
Options 2, 3, and 4 are only ideal for a person who is in a race against time when they are creating a product mockup. So, any of these techniques can be used for creating a product mockup depending on the level of design distinctiveness or originality and the amount of time you have to create such product mockup.
Utilization of the efficacy of mockups is a unique way or method by which you can persuade your customers or clients to opt for your product and selling your design to them. Mockups are a critical part of the product development process. All minor details are treated and attended to before the final product is made.
Although you can create great mockups for your products using any of the four methods discussed, using Dropmock.com would afford you to get your mockup done in time and without much-needed stress, just drag-and-drop your desired picture.
Comments
comments