If you own a business then you know how essential it is to get new customers as often as possible. You know how much time and effort and money it takes to get those new customers too, right? You've probably done a lot of research on it. For example, how much each ad costs and then how many people it's likely to turn into conversions. But what if you could cut your costs on producing those ads? What if you could get as many high quality ads as you wanted, at a lower price than ever before? What if you could create not only ads but all of your other marketing products as well? Well, DropMock makes that possible.
What is DropMock?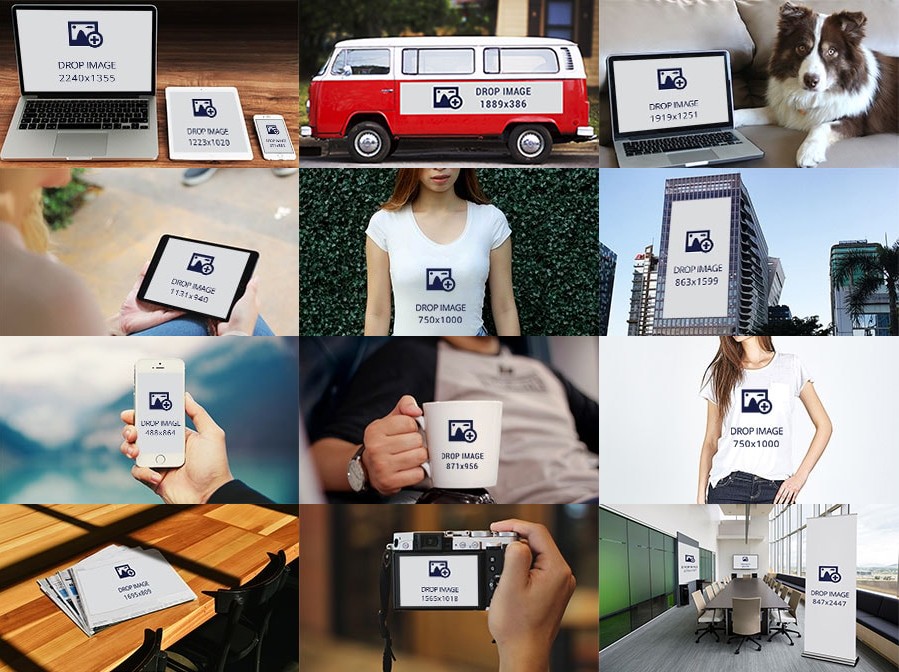 DropMock is a super simple-to-use program that allows you to create high quality ads for use as television and Internet advertisements. Even better, it can also be used to create everything from static image ads to banners, t-shirts, mugs, business cards and a whole lot more. Where other companies charge you a lot of money for these services and limit the amount of options you have, DropMock makes sure you get everything you need and that you have a low price to go along with it.
The way you really know you're getting high quality is because DropMock is also an in-house source for images and content creation. We make sure that all of the images you get for your mockup are going to be great looking because we have a staff of professional photographers that actually get out there and take the pictures themselves. You don't have to worry about any kind of copyright issues or subpar images. Instead, you get exactly what you're looking for absolutely every time. That's definitely important when you're running a business. You don't have time for anything less than the absolute best.
All it takes is a few minutes of your time to sign up for DropMock for your business. You'll get access to all of their great features immediately and you'll get plenty of great tips and help from the blog while you're at it. If you ever have problems or questions there's always someone available to help you out and make sure that you are ready to go with your mockup when you need it. Never wait around again for someone else to get your mockups ready when you can do it all yourself.
Why DropMock?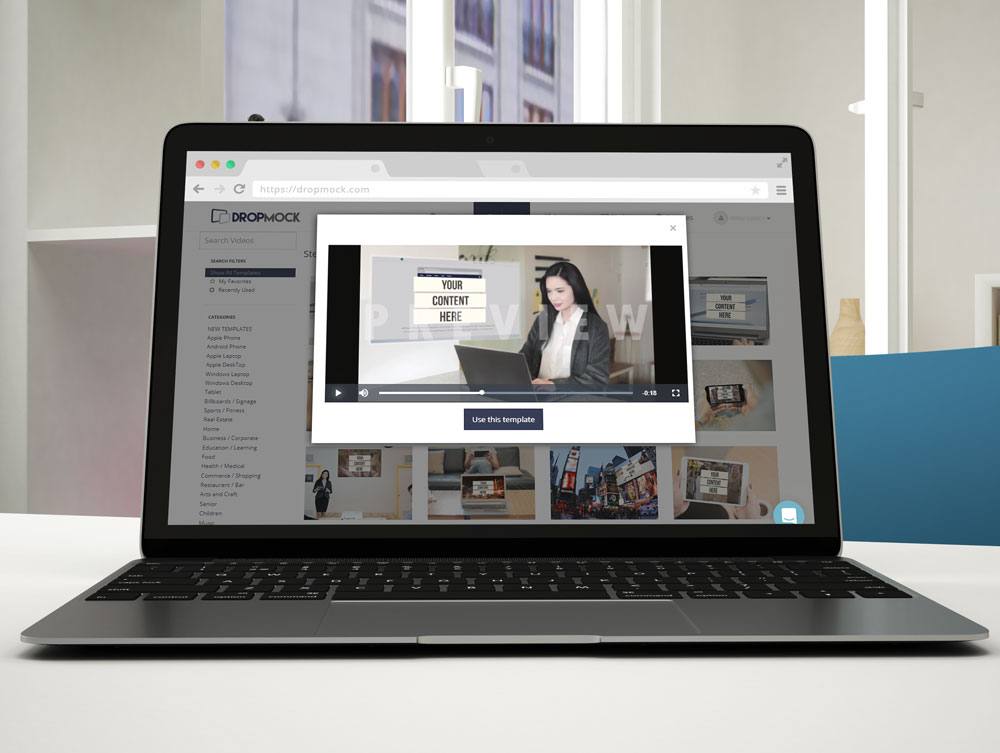 So, just why would you want to go with DropMock over any of our competitors? There are plenty of reasons, but let's start with the high quality templates we have to offer. We have hundreds of different full-color; high quality templates that you can choose to start with, so you'll have no problem getting a video that you can definitely be proud of and that your audience will enjoy watching. That's the most important part, after all, that people are actually going to sit down and watch your video or advertisement, and with our templates and your information, that's not going to be a problem. Unlike other services, you don't have to tax yourself with learning complicated Photoshop or video editing programs.
Each template has areas for you to insert your own information including logos, slogans, designs and other images, so it's personalized exactly the way you want. You'll be able to pick something that works great for your business and then customize it however you like, with no design experience necessary. Even better, there are always new templates being designed and put into the system, so you'll never run out of new options to try and new ways to make your video even better. DropMock prides itself on the quality of its products.
If you decide to change your slogan, start a new campaign or switch up your logo, it's super easy to create a new video that uses all of your new information. Because none of our templates or design programs require you to know video editing, Photoshop or any other photo fix software, we're great for even the beginner business owner and designer. You don't need experience and you don't need to get all the basic images yourself, because we've already done that part of the process for you. You just need an idea and images and designs that are specific to your business.
Another really cool offering is that we provide you with more than just everyday templates for your business. We also provide you with a range of themed templates that focus on specific holidays and special occasions, so you can create something tailored to the important things going on around you, whether you want a winter ad and a summer one or a holiday season ad and a beach one. You'll find a range of a variety of themed templates. Our templates are so easy to use that you'll have no problem changing it up frequently to really give your customers something to enjoy.
Special features that the other guys don't offer include the ability to use multiple images in your mock up, including more than one slogan or logo. You can even use multiple designs to get an idea of what you really like and work your way from there. When it comes to some of the other features, you even get the mirror effect that no one else is offering you for your mock ups. What could be more fun than having the most options out of any of the currently available websites and programs for your mockups?
How it Works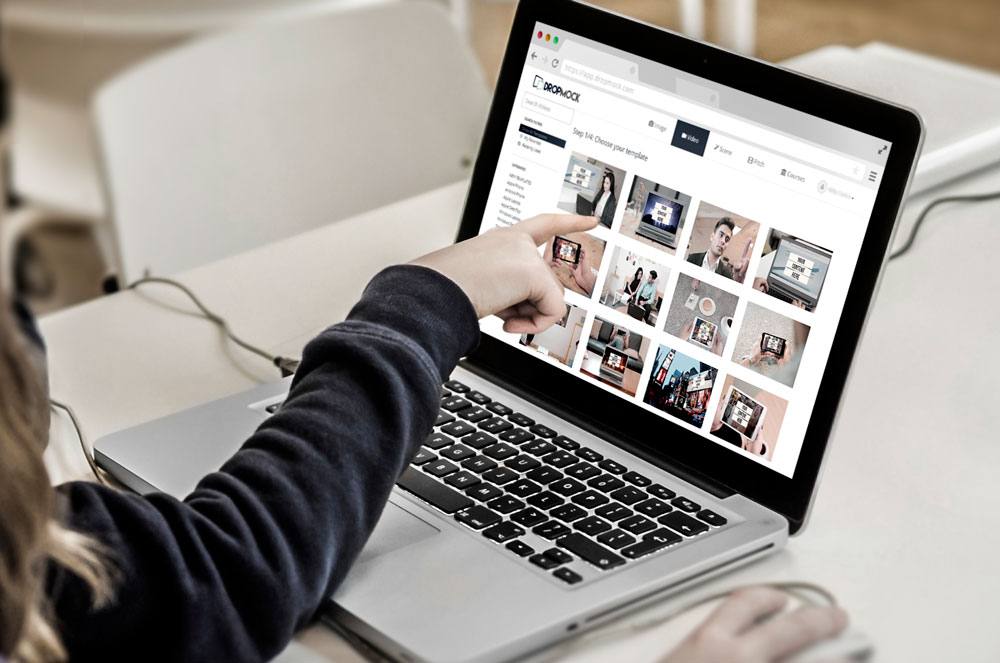 The process to get your ads up and running is actually extremely simple. You start out by going through our selection of mockup templates to decide which one you like best. Don't be surprised if you find several that you really like and don't be afraid to try them out and see which one you like best when you're all done. You'll have a whole lot of fun not only putting together your own ad, but playing with some of the different options while you're at it, just because it's so easy to do.
Once you've selected the right template for you, it's time to customize it. This is not only fun but a very straightforward process. You'll get to check out what you're starting with and then you get to drag and drop items both for yourself, from your logo and business name to your slogan and a whole lot more, to fun images from our selection. We have some great items that are precut to make sure you never get background colors or anything you don't want and to make sure they are customizable to what you're looking for in just the right place.
Once you've got everything personalized and customized to your own liking, you're ready to start the marketing process. You can do that marketing however you like, which is definitely a highlight of our service. Your ad will be high quality enough that you'll have no problem showing it off to everyone and making sure that your customers and potential customers are as thrilled with everything that you've put together as you are. After all, when you put that much work into something you're definitely going to want people to see it, right? Why not show it off to the entire world?
Your Pricing Questions
But what about the pricing of these services? Many people would assume that they'd be paying a lot of money for something that allows you unlimited previews and tons of new templates each month. Especially if you take into account that you're also getting the image editor, a cloud based storage drive, the ability to show off your creations whenever you want, easy uploading to YouTube and social media networks, a commercial license for your mockups and the drag & drop scene creator. However you can get access for a for an extremely affordable monthly rate. Even better, if you really want the best price you can sign up for one year of access and save even more.
If you are an enterprise client or an agency, looking for access for a larger group of companies or employees you'll have no problem getting access to exactly the services that you need as well. That's because there are plenty of options to attain everything you're looking for, and all you have to do is get ahold of us and we'll design just what you need for access and services. We're here to help you out, no matter what your needs may be and we'll come up with a pricing schedule that works for you.
Need Tips and Ideas?
If you're not quite sure what you want to do next or how you can create something truly great for your company you can always check out our blog. There are always tips and tricks on how to use the system to get what you really want out of your mockups and our service as a whole. In fact, you'll be able to find out a lot about what the system can do for you and what it takes for you to get the most out of it every time you sit down at your computer.
If you're not sure what to do about your brochures, business cards or anything else, the blog can help you with some of those as well. There are design ideas, thoughts about what to put on each aspect of your advertising and marketing tools and lots of other pro tips and tricks. There's no need for you to ever get stuck on marketing again. Everything is right there, with everything from new ideas to hot trends in the way of brand promotion and web design. There's nothing too big or too small for DropMock to help you and your business out with.
Listen to the Pros … Our Customers!
Think you're ready to jump in and try out this system for yourself but you're not 100% sure? Check out the great reviews and recommendations from our happy customers. They love not only the high quality images and production quality, but also the great support staff and the way that you can create anything and everything you want in an easy-to-use, inclusive package. They'll tell you that there's nothing we can't and won't do for you and your business because that's exactly what we would want for our own business.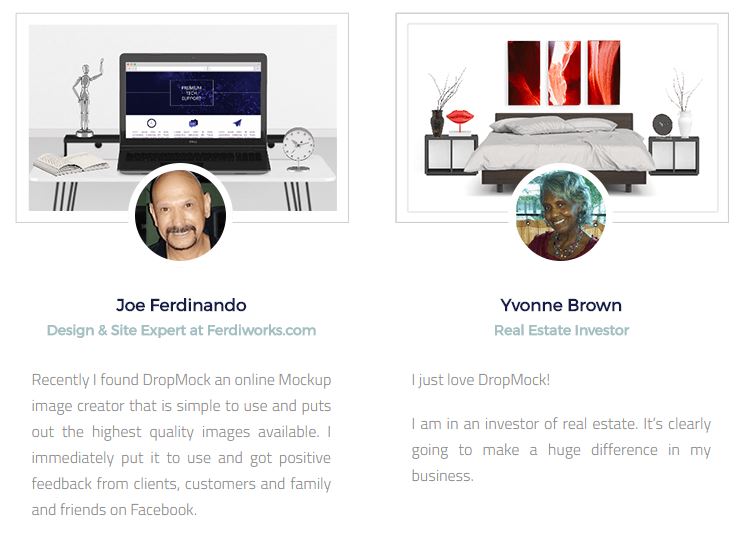 Our customers know what we have to offer, and before long, you're going to be just as happy to recommend our services and our customer service team to everyone you know. There's nothing to lose and a whole lot to gain by signing up for our program and making sure that your company joins the list of happy customers. Whether you have a large business that needs a lot of everything or a small one that needs just a little bit of everything, you're going to be off to a great start when you sign up and get going with what we have to offer.
Conclusion
The days of spending lots of money and a whole lot of time on creating a great quality mockup are long in the past. There's just no reason for it. There are plenty of options out there, and of course, there's DropMock to combine all the qualities you've been looking for into one easy to use system. Why would you spend all that time slogging through old systems or trying to learn video editing to create a great mockup? Why would you spend thousands of dollars paying someone else to create that mockup for you? DropMock can ensure you don't have to.
Getting the most for your money is definitely important for any business owner, and when you're looking to get a great quality ad as well as great quality marketing products, you're not going to go wrong with DropMock. With no experience necessary and everything ready for you to get started, you're going to be more than happy with everything you get when you're done with us, and that includes the price you pay for the entire thing.
Comments
comments