DropMock: Using Twitter to market your brand
Are you using Twitter to market your brand? Read on to discover how using DropMock can improve your brand awareness in a more professional and memorable way.
While you may think that Twitter's been set up for celebrities to bombard us with inane chatter about their personal lives, this social network offers far more, particularly as a means to promote your business. Set up by US bloggers 10 years ago, the popularity of Twitter can't be denied. It's a way to get your message across in a sharp and succinct way plus, despite the fact that the text is limited to 140 characters, you can include links to a whole host of extra information. Put simply, Twitter gives you a whole new way to communicate with your customers and market your brand.
What is Twitter?
For those of you who've heard of Twitter but don't really have a clue what it's all about; Twitter is a communication tool that enables you to send short messages, known as Tweets, to people who subscribe to you, i.e. your followers. As Twitter is a community, to become part of that community, you'll need to find people to follow and become a follower yourself. Being a follower allows you to read, respond to and easily share things that others tweet, with your followers. This act of sharing is known as retweeting, and is one of the ways to build your own followers and your online community.
Although the text itself is limited to 140 characters, you can include links to all kinds of other web content, including blog posts, website pages, documents and, of course, you can attach pictures or videos.
Using Twitter to present your brand
Your Twitter presence needs to have the same look and feel as your other online tools to that people can easily identify your business and your brand. Therefore, always choose an account name and images that are consistent. Don't forget that your Twitter name will appear next to all your tweets, so make it something memorable and easy to type on mobile devices.

Make your profile and header images really count
As you're given the opportunity to upload two different images to represent your account, you'll want to ensure that these are the best quality possible, and that they really say something about your company and its ethos. Your profile photo is square in shape and appears next to every tweet you send. Whether you want to use your company logo or something completely different is your choice, but make it something that links in with your brand and is easily recognisable. If you're a small business, you may want to consider using a personal photo.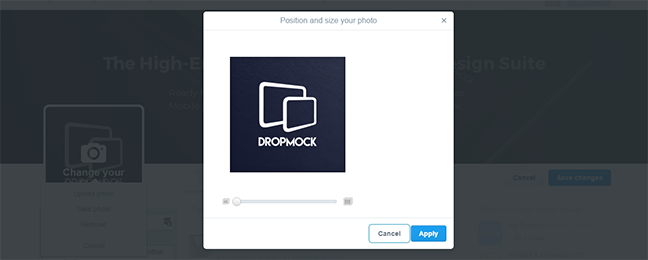 Once you've chosen your profile photo, it's time to add your header. This is where you can really tell the story of your business. Just like Facebook, your header photo covers the top of your profile page, and is the perfect opportunity to get the message out about your business. Creating an eye-catching header photo is easy using an online mockup tool such as DropMock. Plus it makes it possible to easily and quickly create new header photos if you want to promote a particular aspect of your business, such as a sale or your latest product.
Adding images to your Tweets
We know it's a bit of an over-used phrase, but a picture definitely is worth a thousand words. Therefore adding an image to a tweet means that you can expand your message way beyond the 140-character limit. And, of course, using DropMock means that you can create images that will get your message and brand across in a way that's both professional and memorable.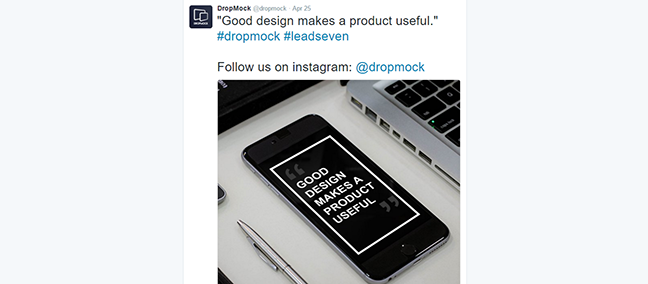 How Twitter can add a unique element to your marketing
If you've always wanted to add a blog to your website, but you're not sure that you'll be able to find the time to keep it regularly updated, or you're worrying that it will be difficult to think of fresh content all the time, Twitter could be your answer. In the world of social media, Twitter is categorised as a microblogging tool. This means that you can send short posts to get across a particular aspect of your business, without having to write a full blog post.
Of course, if you already have a blog, you can use Twitter to promote your latest blog post to your followers; to give them a highlight of what the post is about, and to remind them to go and read it. What's more, every tweet you send will go directly to all your followers!
Don't forget to retweet
Twitter, like other Social Media, allows you to build and become part of an online community and, as such, the key to making the best use of Twitter for marketing purposes is to demonstrate that you're an expert in your field. It's not just about posting 'clever' tweets, but it's about scanning tweets or using a Twitter search engine to find particular issues that you can help with. By offering snippets of advice for free, you'll build trust and credibility and the people you help will be more likely to do business with you in the future.
If you'd like to know more about setting up a Twitter account for your business, and using Twitter to market your brand, Twitter itself has some very good information. Plus don't forget to follow DropMock on Twitter for all our latest information and developments.